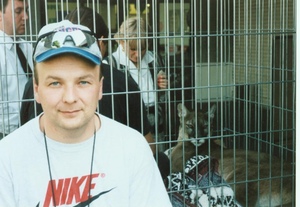 Prague, Czech Republic
57 y.o., seeking a woman for real meeting
About me
General information: I am not scammer!!(Skype:Peter EU ) I dont wanna so you send me money!!! I seeking correct communication. I would like reverse my life and seeking my second half. Appearance: I am not pay member, send me your mail, and I reply you. Thanks Looking for: I Seeking girl for future live Live in Love or sex? Hi Honey! Love or sex? It is something people argue...Sex can only be really amazing when it is combined with falling in love or love ... what are your thoughts? The rest is just fitness. First night together... What is it like? No, I'm not talking about sex, although it is possible ... I'm talking about hugs, frank conversations, gentle kisses, about two hot coffees with condensed milk that are cooling on the window. Have you ever seen a truly willing man?! With hungry and greedy eyes full of animal brilliance and boundless tenderness ... Good sex is not 15 poses per night, but one movement for two to the beat, absolute feeling for each other, complete dedication and sensations bordering on madness, loss in space and time, every push, every movement on the rise, breathing is heavier and hotter, wet hot bodies in search of moisture on the lips, a deep moan in unison and flight ... In these moments you understand what it means to love, what absolute bliss means, complete nirvana and all-consuming ecstasy at the level of feelings... The best things in the world explode the brain, but after the big bang, everything is just beginning. When did you have such an explosion? When was the best time for you? do you have any memorable moments you like to remember often or will we create them together? Hope to hear your thoughts,
Single, no children.
Blue eyes, blonde hair.
Height: 180 cm (5' 10''), weight: 106 kg (233 lb).
Education: college, job: art.
Smokes regularly, drinks occasionally.