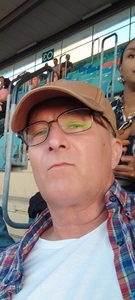 Gotenburg, Sweden.
60 y.o., seeking a woman for real meeting.
Was online: September 26, 2022 at 23:14.
About me
Hi,I like ortodoxt people and culture. I will never grow up and am a geek with many interests. Right now my biggest interest I to find you I work in bioenergy, as a systems engineer, which is good for me. I'm a bit of a shapeshifter and enjoy changes in life. It's probably ADHD or something ;-) Live just 10km outside town on countryside. Write a few words. Just Let's see what happens from here.
Single, two children.
Blue eyes, gray hair.
Height: 185 cm (6 ft), weight: 105 kg (231 lb).
Education: high school, job: science.
Smokes and drinks occasionally.