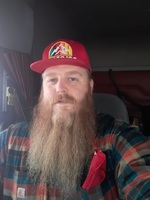 Denver, USA.
40 y.o., seeking a woman for serious relationship.
Was online: yesterday at 17:39.
About me
I lead with my heart in search for higher purpose through selfless service, acts of love and inner child spirit for learning and growing together through healthy communication and adventure seeking traights. My hope that friendship will create special attraction has never diminished though I have not found my soul mate yet. I will be honest that it will take someone special as I have never known another Man like myself and I'm not certain why that is but I do not get into just any relationship with a Woman like I have witnessed many do and fail? This has never made sense to me? I enjoy quiet moments in nature and have never called this time "Awkward Silences" so I am very different in my way of being. My ideal match would grow plants and build our home in country as we can be free and independent together or apart. Trust is given freely to build ourself up. Please be honest about if you like road trips across country or no? I travel for my work and would bring her with me so we can be together as much as possible. I just want to build a life worth living by for. I have not been in serious relationship with a Woman since January 23rd 2012. I hope to have a serious relationship and bring her here to usa to travel together and decide what we want as a team :) I wish you all a very good life yet there can be only one for me! I have not married yet, but I wish to marry only once. There is no such thing as divorce to me. Only forever together as a Man may serve a good Woman! Joshua
Single, no children.
Blue eyes, brown hair.
Height: 192 cm (6' 3''), weight: 121 kg (266 lb).
Education: college, job: trade.
Smokes and drinks occasionally.