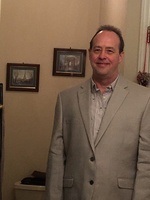 Raleigh, NC, USA.
59 y.o., seeking a woman for serious relationship.
Was online: April 6, 2020 at 17:47.
About me
I am looking for a serious relationship leading to marriage eventually. I don't care about your age, if you are OK with being friends first with a man older than you, then I am OK with it. I actually like the enthusiasm of hope of youth, it keeps me young at heart. Let's start as friends with communication and see if we are compatible. I want to hold your hand and give you hugs and kisses, no matter where we are - public or private. I will never let you go to bed without at least a kiss, and more! I will never go to work without giving you a kiss, and maybe more! Sensual loving is a big part of my relationship with you, but only after marriage. I can wait for the best one for me, can you? Contact me if you are ready for the ride of your life!
Single, more than three children.
Brown eyes, brown hair.
Height: 180 cm (5' 10''), weight: 88 kg (194 lb).
Education: high school, job: mass media.
Does not smoke or drink.