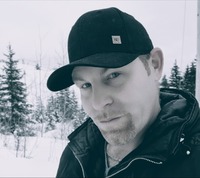 Timmins, Canada.
39 y.o., seeking a woman for serious relationship.
Was online: January 19, 2020 at 17:46.
About me
Looking to share integrity and affection with another. I'm a single father of 2 every other week. I'm grateful to have been single and not dating for 2 years. My previous relationship was 21 years. I'm looking for another to grow with, write a new book, better than any before, and our last. I'm grateful to only be interested in something serious, of integrity and virtue. I rarely drink, and am interested in sharing my my time with a partner in life who chooses' the same. I do enjoy cannabis on occasion, but I am Canadian 😉☮️. Our time and lives are too short, valuable, and worthy to spend a length of time on any dating site.I'm grateful to know what I want, and the growth to know life's too short to be lived without meaning and purpose lived within all of our present moments'. I'm grateful to want to share my life with another, and should the space in my heart be of a virtuous fit for your love, let's get off this dating site, skip the chapters and write our book 🌹 I'm interested to chat via text, voice & video on WhatsApp, Snapchat, Messenger, Telegram, Kik, Viber, Google Hangouts, or whatever free platform works for both of us. I offer transparency and openness, while trusting the same is returned by another who may choose to share integrity and affection 🌹 Write me beautiful 🌹
Single, two children.
Blue eyes, blonde hair.
Height: 174 cm (5' 8''), weight: 85 kg (187 lb).
Education: college, job: trade.
Smokes and drinks occasionally.