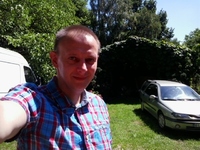 Lodz, Poland.
38 y.o., seeking a woman for serious relationship.
Was online: June 27, 2018 at 09:50.
About me
Funny and responsible guy, development company owner, passionate about animation movies, web design, computer graphics and Spanish cooking. Likes dance music, and currently working on the company website and his own cartoon animation project. Wish to find a true life partner, a soulmate, good looking, non-smoking honest woman who would like to have a family with kids, live in Lodz (central Poland). Looking for a creative person with ideas, who would also like to work with me in Adobe programs (Illustrator, InDesign) so we would together engage in the artistic world to create own projects, and get creative in making own animation movies. We could travel to Spain often. I wish to settle in Spain, since I have a passion for Andalucia, and have lived there for two years. I have been learning Spanish for many years now. For me it is most important to find a serious relationship based on honesty, understanding, friendship and love. Please write and let's start to get to each other better.
Single, no children.
Green eyes, blonde hair.
Height: 185 cm (6 ft), weight: 82 kg (180 lb).
Education: Bachelor's degree, job: art.
Does not smoke, drinks occasionally.