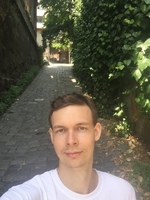 Brisbane, Australia.
30 y.o., seeking a woman for serious relationship.
Was online: July 16, 2019 at 09:55.
About me
im very easy to get along big heart, honest and respectful. down to earth. very romantic. kind and gentleman. i dont like one nightstands. i work as chef i enjoy it but looking for my soulmate now. i also like camping/outdoors/nature/ food/ travel/ and good company. as well as relaxing at home. also age group ( 20-33 age group no older thank you ) i plan to be in ukraine on 15th of June to 1st July 2019. i am looking for serious relationship and i understand most people do not speak English. this is not a problem for me. lot of translators out their that work. and i know some nice words of Russian ( know its ukraine ) i have plans to mainly be in Poltava. as this was something i made plans for along time ago. but sadly cant cancel hotel bookings so. so maybe nice lady who is interested in meeting and conversation before i leave in weeks time. also willing to move country for right partner.
Single, no children.
Brown eyes, brown hair.
Height: 189 cm (6' 2''), weight: 66 kg (145 lb).
Education: college, job: trade.
Does not smoke, drinks occasionally.