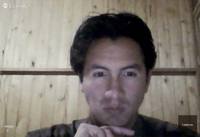 Lima, Peru.
26 y.o., seeking a woman for real meeting.
Was online: April 22, 2019 at 20:00.
About me
I AM A PASSIONATE PERSON I CAN LOVE WITHOUT LIMIT, MY PARTNER, I AM AN EXPERT IN THE FRENCH KISS, I CAN BECOME THE KNIGHT OF LOVE, SO VERY LOOSE IN LOVE, NOT SO NOTHING TIMIDO, I LIKE TO CREATE THE SENSATION OF ETERNAL LOVE , I AM A POET WITH THE WORD AND A PERFECT DANCING OF MOVEMENTS VERY BEAUTIFULLY EROTIC SALSA JAZZ LAMBADA, I AM VERY DECIDED, I HAVE AN ARMED COMPANY AND I JUST NEED SOMETHING A QUEEN, SO THAT I INSPIRE WITH ITS EYES IN EVERY DAWN, THE BLUE SKY IT IS ILLUMINATED, FEELS THE WIND IN YOUR FACE I AM THE KNIGHT OF LOVE, IT IS HOW TO HUGGING MY GIRL, I CAN MAKE YOU FEEL PROTECTED, IF YOU WANT IT TO BE YOUR LION SLEEP ME, WRITE ME !!!!
Single, no children.
Black eyes, brown hair.
Height: 174 cm (5' 8''), weight: 56 kg (123 lb).
Education: student, job: management.
Does not smoke or drink.